Future of Work – Top Takeaways

3 Things to Remember to Recruit and Retain a Youthful Workforce


One of our Young Disruptors said it best: "The Future of Work is going to be a rollercoaster."

Over the last couple of years, The Future of Work has become a burning topic, encompassing technological, generational, and social changes that are shaping how we will work in the coming decade. With five generations (five!) now in the workforce, employers face a new set of challenges for effectively engaging and communicating across generations.
So, why does it matter to grasp the Future of Work? Well, the work landscape has become pretty unpredictable, with mass layoffs, remote work debates, and the cost of living crisis continually making headlines. Buzzwords like "quiet quitting" and "quiet firing" have also dominated discussions.
For employers, staying up-to-date on workplace trends is crucial to employee engagement and building an appealing employer brand. Failing to adapt means employers risk losing top talent and losing relevance in the eyes of existing and prospective employees.
Lucky for you – as a research and insight youth engagement agency, Beatfreeks can help you stay ahead of the curve and embrace the Future of Work.
We used our tried, tested and award-winning methods to capture the true 'mood of now' with Young Disruptors (16-35's) when it comes to the Future of Work. Here are our top takeaway tips to help you recruit and retain a happy workforce. 

Tip 1: Reflect to Recruit
33% of the Young Disruptors we spoke to said that a lack of diversity on an interview panel would likely put them off working there.
Young Disruptors are experiencing a blend of societal shifts, such as the "war of woke," rising industrial action and movements for human rights, all amplified by groundbreaking advancements in AI technology.
So in the midst of it all… Who are you? What does your company stand for?
For the average person, work takes up over 70% of the 7-day week, so it's hardly shocking that there is a sense of needing to know it's for a (good) reason. As an individual, you might have beliefs that support the greater good, but what messages does your company put out there? Do you know your local community? Have you supported a good cause? Could you?
Our National Youth Trends™ research has shown us that 95% of young people think organisations should get involved in social issues in some way. Now, this doesn't have to mean you are on the picket line every week (after all, there is far too much work to be done and industries to master).
What you can do is get clear on your company vision and mission. Hone in on your impact (the good and the bad) and openly, transparently engage in making change where you can. It's a must for the new workforce. But remember, real change takes time, so stick with it!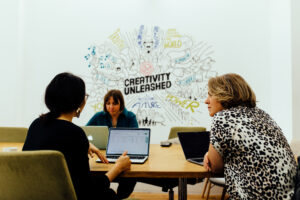 Tip 2: Look After Your People
Work-life balance is a clear objective we have all uttered the need for at some point. It's the capability of meeting your deadlines at work whilst still having time for friends and hobbies. It's having enough time to sleep properly, eat well and not worry about work when you're at home (life goals, amiright?)
The reality can be a little different for all of us. When you take into consideration there are teams of people working flexible but different hours, remote working (in your home) and some employees working more than one job to make ends meet in a cost of living crisis, the need to be available for work can often increase. What people are asking for now is work-life harmony.
71% of our Future of Work Survey respondents said it's okay for them to answer a work video call from a hotel, boat, supermarket or other leisure location if they work from home or hybrid.
They are asking for real flexibility from their workplace to work remotely in a way that suits their individual needs. That might be for childcare, to support a passion project, or to enable them to care for a family member or themselves. As the retirement age is creeping up, your workforce wants to live their best life now.
We suggest employers bring something valuable to the table that feels specific to your workforce. Something that will make a measurable difference to their work life harmony and overall job satisfaction.
Offer realistic career development, healthcare and tailored responses that demonstrate employee value is high on your list of priorities. Acknowledge that your senior team's experience, needs and understanding of a 'perk' may be wildly different from the junior team's. There's no harm in admitting that different generations say, think and feel different things. That's what we're here for!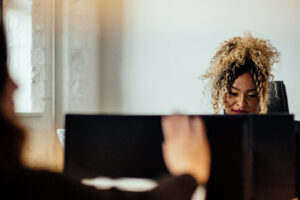 Tip 3: Listen. Really Listen
With the current workforce spanning 5 generations, from Traditionalists to Gen Z, it's important to be really clear with knowing who's who and who wants what.
This tip is useful for all of your employees. Not just the younger cohort.
Have productive and intergenerational conversations with your employees, create spaces where they can talk to each other and break down generational assumptions and myths (something we're huge advocates of here at Beatfreeks). As a senior team, talk to them but most of all listen.
Your workforce are people first. Individuals with a skill set, passion and purpose of their own. You hired them for a reason. If there's one thing we know for sure, they are the experts of what it is like working for you.

***


At Beatfreeks, we know the importance of understanding what employees really want from their workplace and how employers can respond to this to create an environment that fosters employee satisfaction and retention.
Our approach of working alongside young people gives our clients access to fresh perspectives and ideas. By involving young minds in important discussions, employers can tap into the energy, creativity, and forward-thinking mindset that the next generation offers (pretty cool, right?)
We are proud to mention that the stats and insights shared in this article were sourced from our National Youth Trends™ insight platform. Subscribers of this platform gain access to the Mood of Now from 16-35's, enabling you to better understand the mindset, preferences, and aspirations of your young workforce. This invaluable resource empowers you to make data-driven decisions and adapt your strategies to meet the evolving needs of your employees.
If you are ready to transform your employee engagement, increase talent retention, and foster a workplace culture that truly resonates with your workforce, Beatfreeks is here to help. Our human-led insights and innovative approaches will guide you towards creating an environment where employees thrive and contribute their best.
Contact us today and we can chat about unlocking the potential of your workforce through human-led insights and meaningful engagement strategies.