Recent reports have predicted that young people will make up a whopping 60% of the luxury market by 2026. But at youth insights agency, Beatfreeks, we're not buying it.
Our own research has uncovered insights among Gen Z and Millennials that could derail this projection. As the cost of living crisis takes a toll on younger generations' spending habits, the notion of young people dominating the luxury market is up for debate.
Join us as we explore the changing landscape of the luxury market and the challenges and opportunities it presents.
Luxury brands have long been associated with exclusivity, extravagance, and high prices (often making them difficult for many consumers to access). Now, research is suggesting that young consumers are transforming the face and character of the luxury market.
Reports have indicated that younger consumers are driving spending in the luxury retail space. According to research, Gen Z and Millennials will account for 60% of the luxury market by 2026!
To engage with these new audiences, luxury brands have been exploring various tactics (and of course, we've been discussing these tactics here at Beatfreeks). For example, LK Bennett has partnered with reselling platform Thrift+ and launched a subscription rental service, while Coach launched its Courage to Be Real campaign, encouraging consumers to embrace authenticity. Ralph Lauren is expanding its digital-first strategy, and Burberry underwent a rebrand embracing a more playful aesthetic, fit for the times.
We've been chatting about this research and the marketing strategies of luxury brands here at Beatfreeks, and we've compared it to our own research conducted with Young Disruptors (16-35-year-olds in the UK).
Whilst we recognise the immense purchasing power of Young Disruptors, our insights into the cost of living crisis suggest that the prediction of young people driving the luxury market might be a *slight* misrepresentation… (at least in our humble opinion).

Research conducted by Beatfreeks with Young Disruptors (16-35-year-olds in the UK) reveals that while young people certainly have immense purchasing power, the cost of living crisis has impacted their ability to spend on luxury items. Many are struggling to make ends meet – for the Young Disruptors we spoke to, the top shared spending priorities they mentioned were "paying bills", "buying groceries", "essential items" and "saving money". All of these take priority over luxury spending (understandably so).


In addition, sustainable fashion is no longer affordable for Gen Z and Millennial consumers, despite their reputation as the most climate-conscious generations. While some luxury brands have made progress towards sustainability, others still have a long way to go. Burberry, for instance, burned unsold goods worth up to £28.6 million in 2018.
*cries*
Actions like these raise questions about the true commitment of luxury brands to sustainability and ethical practices. It is clear that more needs to be done by luxury brands to bring more ethics and purpose into their marketing strategies, especially around things like sustainability. As luxury brands now shift their focus to capture the attention and loyalty of younger consumers, they need to understand the real needs and desires of this demographic. For example, our own research has found that 87% of young people say they pay attention to a brand's ethics when buying from them, AND, 95% of young people think organisations should get involved in social issues in some way.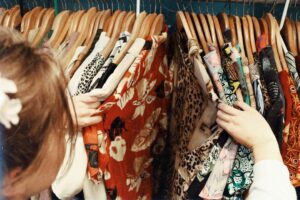 To appeal to the younger generation of luxury buyers (those that can afford the spend), luxury brands need to find the right balance between exclusivity and accessibility. This means creating more affordable sustainable products and finding innovative ways to meaningfully engage with younger consumers through digital marketing campaigns and social media. Partnering with youth research agencies, delivering sustainability-focused campaigns, and collaborating with young people to co-design digital campaigns are all tried and tested methods of achieving this.

Should the predictions around young luxury consumers be correct, luxury brands need to demonstrate a genuine commitment to sustainability and ethical practices to appeal to the evolving luxury consumer. By addressing the cost of living crisis and sustainability concerns and finding ways to balance exclusivity with accessibility, luxury brands have a unique opportunity to meaningfully capture the attention and loyalty of younger consumers and potentially make a positive social impact in the process too.