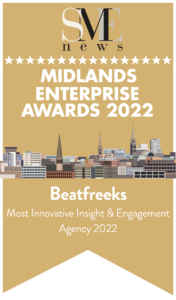 We are over the moon to announce that Beatfreeks is the winner of 'Most Innovative Insight & Engagement Agency 2022' from this year's Midlands Enterprise Awards.

"As an agency that has insight at the very heart of its culture, we are thrilled to be recognised for our innovative work in this area. We have a team at Beatfreeks that really knows the value of the work we deliver and receiving an award like this reminds us that others see that value too." – Amy Clamp (Commercial Director)

At Beatfreeks, we are proud that insight is at the forefront of each piece of work we deliver. We never operate from a place of assumption – we prioritise the lived experiences of the 16-35 year olds we're experts in working with, and we have a research approach that balances ideas, stories and data to deliver meaningful insight.

Innovation is also an inherent part of our culture here at Beatfreeks, and we are constantly looking for new ways to innovate, both internally with our team and for our clients.

The innovative methodology that guides our approach across all our work is Constructive Disruption. It's our way of helping clients stretch the limits of what's possible, by productively challenging what already exists.
By having Constructive Disruption be central to the brands we work with, and also to how we operate as a team, we can ensure that our work remains agile, responsive and consistently innovative.

We are excited to continue building on our research and insight work, particularly as we are set to launch our National Youth Trends subscription offer in early 2023, gaining subscribers access to regular insight, real stories, thoughts, habits and content directly from 16-35 year olds, presented by Beatfreeks' expert team.