Goooooood morning, you ray of sunshine.
Welcome to the 
spooo0oo0oky
 October DL – your monthly recap of the good, the bad and the downright chaotic world of news, pop culture and issues affecting young people right now.
This month's edition has been frantically typed out by yours truly, who at this point has no idea how to sum up a month's news cycle in a single email. 
Let's discuss x
***************************
The lettuce won! 
Liz Truss girl-bossed her way straight into the Guinness World Records after she resigned last week, making her the shortest serving UK prime minister (44 days in office to be exact)
Since Truss' resignation, Rishi Sunak has stepped into power as the UK's first British Asian prime minister and the first Hindu prime minister. He's also the youngest prime minster of modern times, at 42 years old.
Sunak was elected by his fellow Conservative MP's.
When we asked our community of young people whether they think we need a general election, the results were pretty clear…
Say what you want about British politics recently, at least we've had some top tier memes 

Tweet courtesy of @putasinghonit
Even Lidl and RyanAir got in on the drama… 
***************************
Resignations, sackings (soz, Kwasi) and rehires… British politics is a shining example of the *ever so slightly* confusing world of work right now…
There are currently five (FIVE!) generations in the workforce for the first time in human history 

Whilst employers try to navigate this multi-generational landscape, somehow, it's the younger generations that are still being called out 
 In a video online (it's now deleted, obvs, but you can see a brilliant duet of it here on TikTok), Steven Bartlett called Gen Z the least resilient generation in the workforce, going as far as to say he would be apprehensive to hire a Gen Z 
 Beatfreeks food for thought: Gen Z entered the workforce during a global pandemic, times of major social & political unrest, and a global energy crisis, so to call them the least resilient feels like a biiiiiit of a stretch, no?
* Shameless plug* – we're actually doing loads (seriously, LOADS) of internal research right now around the Future of Work, so if you're 16-35 and want to have your say, you can do so via our survey here.
***************************
Iranian police are reported to have fired on protesters in Saqqez, home city of Mahsa Amini who died in custody after being arrested for allegedly wearing her hijab "improperly"
Since Amini's death, women in Iran have been bravely cutting their hair in public, taking a stand against the country's strict morality laws
This incredible article offers insight into the world of Tehran from a Gen Z's perspective.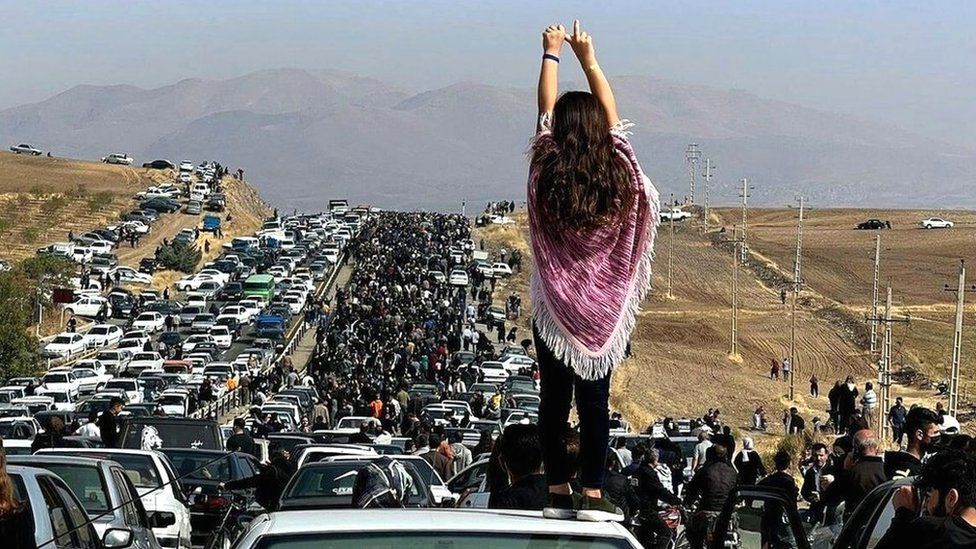 Two protesters for the climate activism group, Just Stop Oil, threw tomato soup on Vincent van Gogh's Sunflowers at London's National Gallery.
German sportswear brand Adidas has terminated its contract with Ye, formerly Kanye West, after the rapper made "unacceptable, hateful and dangerous" antisemitic comments, the company said in a statement.
Many have questioned why Adidas took so long to act and respond. West wore a 'White Lives Matter' shirt to Paris Fashion Week earlier this month.
***************************
 MORE STUFF 
 Buy Now Pay Later service, Clearpay, had its recent meme campaign branded 'socially irresponsible' by Advertising Standards Authority.
 HSBC has had two of its adverts banned for 'greenwashing' after the adverts were deemed 'misleading' about the company's work to tackle climate change.
 Greenwashing to the highest degree… fast-fashion giant, Shein, has announced the launch of a new online peer-to-peer resale platform to purchase and sell previously owned Shein products…
Sustainability experts argue that resale platforms aren't enough to overhaul the exploitation and overproduction inherent in the fast fashion business model.
 Got 5 minutes spare? Great quick podcast here from Global Action Plan about youth-washing and the power of listening to authentic youth voices.
***************************
ONE LAST THING FROM ME 
You might've seen my not-so-regularly-scheduled email earlier this month where I asked for feedback on our VERY exciting National Youth Trends Subscription launch 
Thanks soooo much to all those who gave their feedback and to all those who've expressed early interest in the National Youth Trends subscription offer (coming soooooon!) 
If you'd like to be kept in the loop about the offer, drop me a line here. 
***************************
THANK YOU FOR BEING PART OF THE CHAOS 
As always, thanks for reading and being part of the DL community (exclusive, pretty disorderly and mostly humble) 
As you probs know, we're continuing our meaningful insights-based engagement work across young generations here at Beatfreeks, working with real Young Disruptors, and platforming their innovative ideas, opinions, wants and needs to create some serious social impact 
If you want to have a chat about how we could bring this into your organisation to scale your relevance, get in touch here.
***************************
MY BAD, I said last month that this DL would be spooky themed and all I did was talk about politics (spooky enough, though, amiright??) 
To make up for it, here is a photo of the Beatfreeks office, in full spooky mode, pumpkins and all 
Byeeeeeee xoxo
Peace and love
Katie xo
If this isn't your cup of chai, then feel free to update your digital preferences here.


Been forwarded this by your bestie? Get your own – here 
Copyright © 2022 *BEATFREEKS*, All rights reserved.